3 Common Causes of Tense Muscles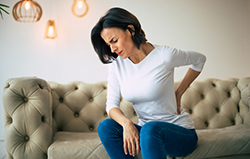 At some point in our lives, each and every one of us has experienced tight or tense muscles. In fact, somewhere in your body at this very moment there's probably a tense muscle. But what's the cause? There are a few common culprits that we see in the practice frequently, including:
1. Stress. In today's world, stress is around every corner. This high rate of exposure can lead to muscles typically in the back, shoulders and neck feeling tense frequently.
2. Dehydration. Feel like you've got a thirst you can't quench? You might be dehydrated. In addition to dehydration, electrolyte deficiency can cause muscle cramps and tightness.
3. Nutritional deficiencies and medical conditions. Most of us are deficient in Magnesium due to agricultural practices & pesticide use (Round up was originally a demineralizer to clean out commercial pipes!) This can cause muscle aches, restless limbs & muscle spasm. Magnesium helps with all of this and helps improve sleep. We carry an inexpensive, high quality absorbable Magnesium Bis-Glycinate. Please ask for it on your next visit! Thyroid issues can also cause muscle pain, weakness and even spasms.
If you're tired of tense muscles, chiropractic may help. Contact us for an appointment.
Celebrating Earth Day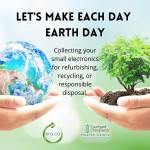 In celebration of Earth Day, April's theme is sustainability .. In every are of our lives, it is important that we are living sustainably
Donate your small electronics for refurbishing & donation or responsible recycling! Bring laptops, cell phones, random mystery cords, keyboards etc. to your appointments for the month of April!
Join us on social media for ideas and inspiration on how to make sustainable changes (kitchen hacks for sustainable changes in making healthy choices and saving precious time, noticing extra packaging and choosing different options and more)
Which Exercise is Best?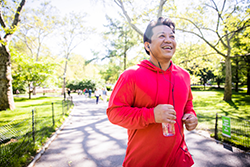 With so many exercise options, it can be hard to figure out what type is right for you. As long as your movement of choice is hitting all four categories below, you're doing great!
Your heart rate and breathing are elevated. Aerobic exercise is an important part of working out as it can help lower blood sugar, reduce inflammation and relax blood vessel walls.
You're using your muscles. Regular strength training should be incorporated into your workouts-but that doesn't have to mean lifting heavy weights. Squats are a great way to engage your muscles.
You make time for stretching. Keeping our muscles and tendons limber leads to increased flexibility as we age, making movement easier.
You're working on your balance. Making balance a part of your exercise routine is ideal for long-term health as your risk of falls will be diminished. You can work balance exercises into your routine by standing on one leg and lifting the other 10 times. Repeat as needed.