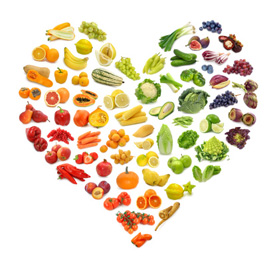 Thank you all for coming to "Get Healthy on the Go ~ Tips & Tricks to get you there!" It was so well received, and a huge number of people were so excited to attend but were  unable to come…. So we will be offering this seminar again mid-June. I will announce dates ASAP! It's just too good to miss.
Here are some recipes and tips to get you started. I will be posting more as we go. Please share your ideas, recipes and tips too!!
Wishing you crazy-good health, inspiration, fun and vitality,
Sarah,  Dir. of Ops. CCHC
Before we get started, a few notes…
Organically delicious…. Please just assume that the word "Organic" pretty much applies to everything we say. Whenever possible, organic is better. Animals raised, pastured and fed the way Mother Nature intended are always best too. More on this in our Gut Health Summary, and future blogs (Dirty Dozen and Clean 15 and so much more on the importance of organics).
Egg (1) replacement: Mix 1Tbsp freshly ground flax seed and 2 1/2 Tbsp water and allow to thicken for 5 minutes or more. Flax is a great binder in burger…. leaves them moister than eggs.
Coconut oil: It is a fantastic oil for cooking. It has a high smoke point, meaning it will not denature and become harmful like olive oil does at higher temperatures. It is a fantastic vegetarian source of "good" fat, and it is also antifungal and antibacterial.
Olive oil: Save the raw goodness of Extra Virgin Olive Oil, or EVOO as Rachael Ray would say,  for salad dressings and other unheated applications.
Why Ghee?? Ghee is clarified butter, which is butter with all milk solids removed. It has a lovely buttery taste, it has a moderate smoke point, and it's often well tolerated by those with dairy sensitivities. Be sure it is made with organic, grass fed butter if possible to ensure it is a great source of Omega 3 fatty acids.
---
Chicken Bone Broth
You can use bones from whole chickens (or turkeys) you have cooked or buy chicken bones at your butcher very inexpensively. Freeze the bones if you don't have time right away. Pop bones in a big pot or slow cooker with a large glug of apple cider vinegar (optional), a few bay leaves, cracked black pepper (or put peppercorns in a little cheese cloth pouch for easy removal). Simmer for 2 hrs or more stove top or 6 – 12 hrs in the slow cooker on low. Strain out all bones, bay leaves and peppercorns. Pick off any meat that is on the bones for use in soup. Use to make soup right away or label and freeze.
Note: Apple Cider Vinegar helps to leech the minerals from the bones to enrich your broth with delicious nutrition. It also adds a bit of body to stocks.
---
Kill 2 Birds With One Stone…. Chicken and Soup
Efficiency at its best… Before I go to bed, I put this on.
For the size of slow cooker we have, I chop 3 med onions and spread on the bottom of the slow cooker.  Then, I place the chicken on top and fill with filtered water to 2/3 of the way up the bird and add a glug of apple cider vinegar. Sometimes, I add some dried herbs but sometimes not. I also sometimes throw a bunch of my pre-chopped veggies in (cauliflower, Brussels sprouts, broccoli, cabbage, carrots are great)
After 8 – 12 hrs, I scoop the bird out of the broth and onto a cutting board, with a trough to catch the liquid, to cool a bit. The broth goes into a pot so I can add veggies and some of the chicken I just cooked for a very quick soup, or into jars for the freezer. I make sure to label with some masking tape and marker so I know what everything is. Trust me, it all starts to look the same :)
---
Paleo Muesli
Coconut flakes
Goji  berries
Chia seeds
Hemp hearts
Walnuts
Fresh fruit
Kefir (dairy option)
Coconut milk (non-dairy option)
You can make a big batch of this and store in the freezer. All you'll need to do is add fresh berries and fruit and some kefir or coconut milk if you want.
---
Almond Bread
This recipe is particularly good for those of us who are healing our digestive systems, people with food sensitivities, and anyone who simply wants to avoid gluten/grains, dairy (and myriad of other irritants). I have modified and amalgamated this recipe for Breaking the Vicious Cycle by Elaine Gotschall and The GAPS Diet by Dr. Natasha Campell-McBride. We make this big batch, slice the loaves when cool and put straight in the freezer. Makes awesome toast.
5 C. Almond flour or almond meal
½ C. melted coconut oil or ghee (use regular or non-aroma coconut oil according to preference)
1tsp baking soda
¼ tsp salt (optional)
6 organic eggs
1 zucchini, roughly chopped
If you use a food processor, process the zucchini first, add wet ingredients, then and dry ingredients
Pulse until you have a fairly wet batter
Line 2 loaf pans with parchment paper and pour in batter
Bake at 350F for 1 hour or until smells done and knife comes out clean (will see some oil on knife)
Variations:
Go sweet – Add some honey and cinnamon and maybe some nutmeg
Go Savory – Add some fresh herbs like cilantro, parsley, garlic
Make (small) muffins instead. Grease pan.
---
Zucchini "Pancakes" or Frittata
Coconut oil (non-aroma or regular depending on if you want coconut flavor or not)
1 onion, diced
1 clove garlic, pressed or grated
3 zucchini, grated
5 eggs
1 heaping Tbsp almond butter
Sautee onions and garlic
Mix all ingredients in bowl
Heat pan with ghee or coconut oil and fry 'em up
Variations:
Add some cayenne pepper or fresh jalepeno to spice it up
Make in a frittata for large groups or to save time. Cook on the stove most of the way, then pop under a low broiler to finish and brown the top
Go sweet: leave out the onion and garlic and add cinnamon
---
Turkey Burgers
3 lbs organic free range ground turkey
1 egg or a few tbsp ground flax seeds
1 onion, diced
Fresh garlic to taste
Parsley, finely chopped (you can use anything green and wet like swiss chard, cilantro, collard greens)
Salt and pepper to taste
Almond meal
Mix everything but the almond meal. Sprinkle about 3 handfuls until the mixture is workable but wet
Form into smallish patties and place on parchment paper
Either cook right away and freeze leftovers for a quick salad topper lunch option, or freeze them raw for a quick BBQ or stove top dinner option
Variations:
Make meatballs
Add whatever spices you like (curry flavours, Mexican, Italian etc)
---
Turkey Sausage
4lbs organic free range ground turkey
3 tsp sea salt
2 Tbsp water
Whatever dry spices you like (thyme, tarragon, herbes de province)
Pepper to taste
Knead to mix everything
Form log
Wrap in parchment, then wrap in foil. Poke holes with a fork and place on pan
Bake for ~ 2 hrs at 300F. Check with meat thermometer for doneness
Slice into fairly small patties and freeze. I spread mine on a cookie sheet to freeze then transfer to freezer bags so it's quick and easy to grab a few out for any meal. They defrost very quickly. Makes about a dozen 6 oz patties. Re-heat for breakfast, put on salad or add to dinner
---
Healthy Trail Mix
Organic coconut flakes
Raisins or organic cranberries (no sugar added)
Raw walnuts
Cacao nibs
Tip: Make a big batch and store in freezer
Pre-portion into Ziplocs so you're ready to go. This stuff is good so make sure you're not over-eating too!
---
Zucchini Hummus
This is a great no bean option. Freeze in smaller portions. Thaws quickly.
2 large zucchini, cut in chunks
1 C. tahini
2 smallish cloves garlic, peeled
1Tbsp olive oil
Juice of 1 lemon
2 tsp cumin
1 tsp sea salt
2 tsp chili powder (optional)
Steam the zucchini
Add everything to food processor and blend until fairly smooth
Serve with crudité (You'll be a hit if you bring a veggie platter with this dip to a party or potluck!)
---
Mexican seasoning
We double this recipe and store in a mason jar for up to 6 months. It's so good on so many things! This is from Against All Grain ~ Meals Made Simple by Danielle Walker
2 ½ Tbsp chili powder
1 ½ Tbsp sea salt
1 ½ Tbsp cumin
1 Tbsp dried oregano
2 tsp onion powder
2 tsp paprika
1 to 3 tsp cayenne pepper (depending on your spice likes J)
½ tsp black pepper
---
Mexican Chicken Soup
Straight from Against All Grain ~ Meals Made Simple by Danielle Walker. SOOO gooood!
9 C. chicken stock
5 large carrots sliced fairly thinly in discs
1 yellow onion, diced
2 small poblano peppers, seeded and finely chopped (I could not find these so I used ½ – 1 jalepeno)
6 cloves garlic, thinly sliced
4 Roma tomatoes, chopped (I use more)
1 ½ C tomato juice (See note)
3 Tbsp Mexican Seasoning (recipe above)
1Tbsp sea salt (or to taste)
½ tsp cracked black pepper
3 C shredded leftover chicken
Juice of 2 limes
½ C. fresh cilantro, chopped
2 avocados, diced for serving (optional)
Note: Always buy tomato juice, sauce, chopped tomatoes etc. in glass bottles or jars. All cans are lined with plastic (another great reason to stick with whole food). The acid in the tomatoes of any kind leech the plastic from the lining of the can, and you and your family end up eating it.
---
Seafood "Pasta"
This is a yummy, quick meal option!
Sauce
1 – 2 jars Classico tomato basil pasta sauce (or brand without added sugar, preservatives etc.)
Coconut oil
Onions, chopped
Garlic, chopped
Stir fried veggies of your choice (cauliflower, brussels sprouts broccoli, leeks, kale, greens…)
1 bag of frozen mixed seafood (or your own mix of shrimp, fish, etc.)
Some fish (optional)
Salt, black pepper and cayenne to taste
Pasta
3 – 4 zucchini, whole with just ends chopped off… then spiralize
Run water over frozen seafood to thaw
Stir fry onions, garlic and the rest of the veggies starting with the ones that take longest to cook
Add the tomato sauce
Simmer
Add greens close to end of cooking time
Serve sauce on bed of raw, spiralized zucchini
---
Please add your ideas and feedback! We hope you will share your recipes and experiences.